Staccato C2 DPO T 9MM 3.9" Threaded Barrel Optic Ready 16 Round - 10-1101-000202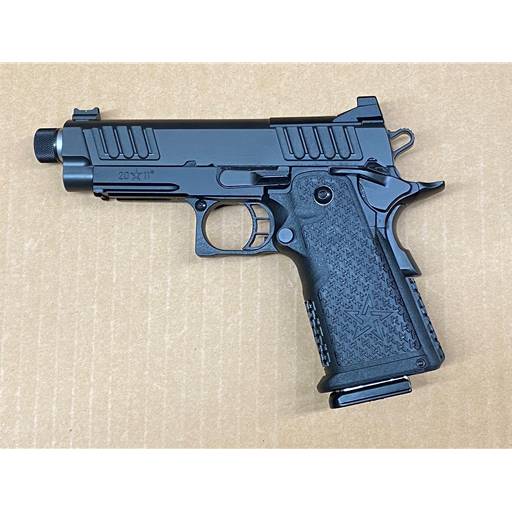 Out of stock at Plano store
---
Details:
Staccato C2 DPO T
The Staccato C2 DPO T pistol with FlaTec™ technology; 3.9-inch bull barrel; aluminum alloy frame; fiber optic front, Dawson Precision® Charger rear sights; Gen 2 2011 grip; ambidextrous thumb and grip safety; Recoil Master recoil system; 4 lbs. trigger; 16-round magazine; and black anodized finish.
Offering unprecedented accuracy and double-stack capacity, the C2 DPO T redefines the phrase "compact carry" and empowers shooters to push the boundaries of what is possible with a compact gun.
Designed with the FlaTec™ technology that helps shooters of all levels shoot faster and more accurately, this pistol features a threaded, bull barrel made of stainless steel; and a lightweight but durable aluminum alloy, black anodized 2011® frame with a Gen 2 2011® grip, both of which help to absorb and disperse recoil while reducing weight. The C2 DPO T is also outfitted with fiber optic front, Dawson Precision® Charger rear sights for easy target acquisition, a 4 lbs. trigger, as well as ambidextrous thumb and grip safety levers.
Overall the Staccato C2 with its concealed carry size and slim profile provides competition performance in a carry configuration. Chambered in 9mm, it also ships with three magazines each capable of holding sixteen (16) rounds.
This Staccato C2 – Optic Ready – Compact Sight option ships with a standard height front sight which, when used in conjunction with the appropriate Staccato 2011® optic mounting plate (sold separately), is designed to co-witness with industry leading carry-sized red dot optics such as the Holosun 507K, and others. Note that optics, mounting plates, and kits are sold separately.
Attributes:
Staccato
C2
10-1101-000202
0816781016969
Semi-Automatic
Stainless Steel, Threaded Bull Barrel
3"-4"
9MM
16
Aluminum Alloy
Gen 2 2011
7.5"
Fiber Optic Front, Dawson Precision® Charger Rear
Black DLC