Sig Sauer 85401 Kilo 850 Range Finder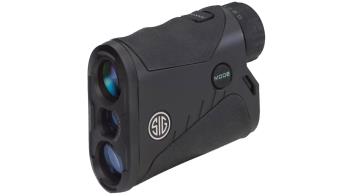 Out of stock at Plano store
---
Details:
SIG SAUER®
KILO850™
LASER RANGEFINDER MONOCULAR
•Finish: Black
•Power: 4x20mm
•Max Range: (REFLECTIVE/DEER/TREE): 1200/600/800 YD
•LightWave™ DSP technology
•Updates at 4X per sec. in HyperScan mode while RangeLock reports the last range result when ranging distant targets
•LOS (Line of Sight) or AMR™ (Angle Modified Range)
•Units in yards or meters to tenth Y/M resolution
•User-selectable target modes featuring Last or Best for pinpoint accuracy
•Compact lightweight polymer housing w/diopter adjustment
•Transmissive LCD display
•Simpli?ed user interface w/Range and Mode buttons only
•Sleek design for one-handed operation & lanyard attachment points
•Range Accuracy Under 100 Yards: 0.1 yd.
•Requires (1) CR2 battery
•Wt.: 6 oz.