Kimber America 3400011 K6S Brushed Stainless .357 Mag 3in 6Rd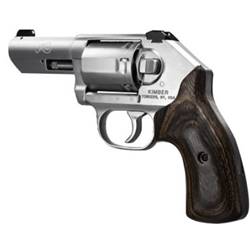 Out of stock at Plano store
---
Details:
The Kimber K6S Stainless Mag Revolver is the first Kimber revolver from the company known for their 1911 style handguns. The goal of this design was to make a Colt Detective Special for the 21st century and they without a doubt succeeded in that endeavor. The standard K6s with 2" barrel weighs in at approximately 23 oz. giving you enough weight to handle the snappy recoil of a defensive .357 load but still being light enough to comfortably carry concealed. All Kimber K6s revolvers are chambered for .357 Magnum and therefore will accept .38 Special and .38 Special +P cartridges as well—but what really set's the Kimber K6s apart from like the Ruger SP101 or the many .357 S&W J Frames available is the 6 round cylinder. The K6's cylinder is actually smaller than its competitors but holds one more cartridge giving you more capacity in a smaller package. Another groundbreaking advancement found in all Kimber K6s revolvers is the double action only trigger that provides a short and safe 9.5-10 lb. pull without any grit or stacking—resulting in the trigger pull feeling more like striker-fired handgun than a double action only revolver. When it comes to size, capacity, and quality the Kimber K6s is the industry's superior revolver.
Attributes:
Kimber America
K6S
3400011
0669278340111
Double Action and Single Action
Low-Glare Brush Stainless Steel
3"-4"
357 Mag
6
Low-Glare Brush Stainless Steel
Large Smooth Walnut Grips
White 3-dot sights