Magpul MOE K Grip AR-15 FDE - MAG438-FDE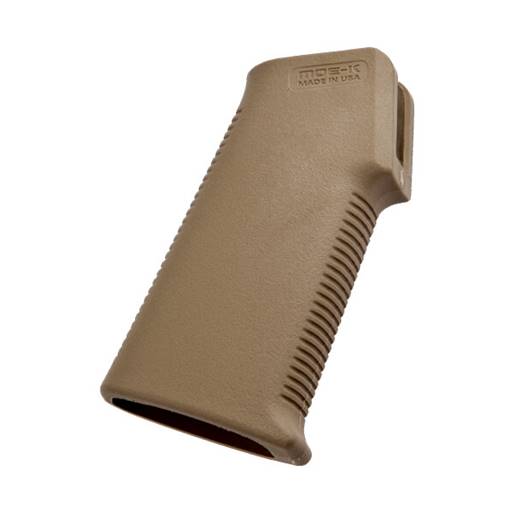 ---
Details:
Magpul MOE-K Grip
The Magpul MOE K Grip with reinforced polymer body; steeper grip angle; thin & low profile; TSP texture finish; flat dark earth color; 3.8" height (receiver to bottom); 1.0" max. thickness; and 2.4 oz. weight (w/ hardware).
This item for sale is the MOE K Grip designed as a drop-in upgrade for the standard AR15/M4 pistol grip.*
The grip features a minimalist design which provides an extremely low and thin profile, unlike more traditional styles; it also has a more compact design with a grip angle steeper than that of standard A2 grips. The more vertical grip angle of this Magpul AR Grip is optimized for use on PDW (Personal Defense Weapon) configurations and improves not just comfort, but also control on short LOP rifles which bring the primary hand in closer to the body of the shooter.
A reinforced polymer construction offered in one-piece, the Magpul K Grip also boasts an aggressive TSP (Trapezoidal Surface Projections) texture for positive weapon control in all environments. Overall this product is an excellent choice for shooters who prefer a smaller grip circumference due to its thin profile and lack of a backstrap 'beavertail'.
The Magpul MOE K ships with all mounting hardware included.
*NOTE: Will also fit most 7.62 NATO AR10/SR25 style of rifles.
Attributes:
Magpul
MAG438-FDE
MAG438-FDE
0873750006123
Flat Dark Earth (FDE)
TSP Texture
AR15/M4
Reinforced Polymer
Grip