Winchester USA White Box 380 ACP 95 Grain Full Metal Jacket Flat Nose 50 Round Box - Q4206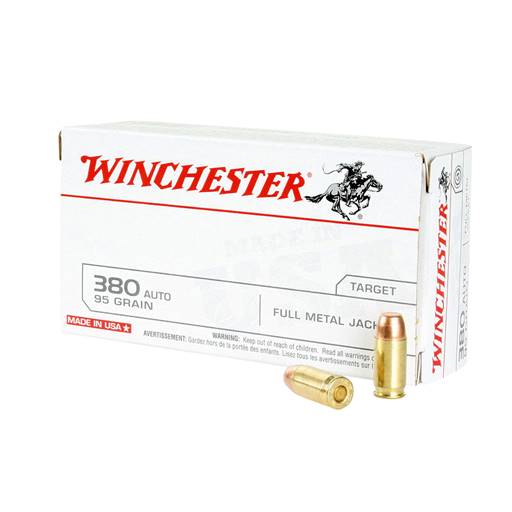 ---
Details:
USA White Box 380 ACP (50 Round Box)
The USA White Box 380 Auto ammo with full metal jacket, flat nose bullet; brass case; non-corrosive primer; clean-burning propellant; 95 gr weight; 190 ft lbs muzzle energy; and 995 fps muzzle velocity.
The new production USA White Box handgun load was developed to provide excellent performance at an affordable price for the high volume shooter.
Trusted for target and range shooting, it sports high quality Winchester components, namely, a full metal jacket, flat nose bullet designed for positive functioning and exceptional accuracy; a brass case that is reloadable; a primer that is non-corrosive; as well as a clean-burning powder that minimizes barrel fouling, ensuring a pleasant and longer range time.
This USA White Box 380 Auto ammo currently on sale weighs 95 grain, clocks in at 190 ft lbs and 995 fps when it comes to muzzle energy and muzzle velocity, and ships from Mister Guns in a 50-round box.
Attributes:
Winchester
Q4206
Q4206
0020892201972
Target, Plinking
Full metal jacket
380 ACP
Brass
95
190 ft lbs
995 fps
50