BCM - Bravo Company Manufacturing Gunfighter Mod 2 AR-15 Pistol Grip Black - BCM-GFG-MOD-2-BLK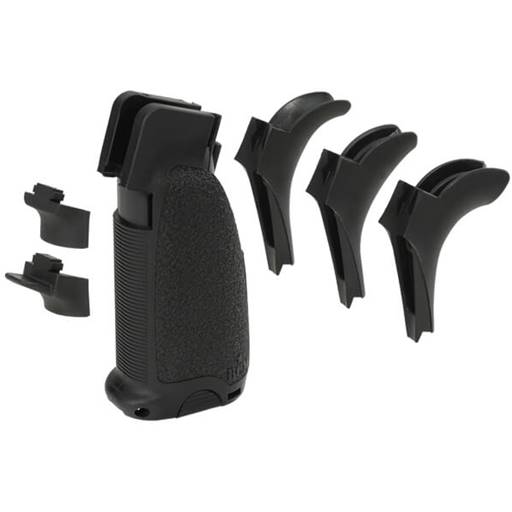 Part Number:
BCM-GFG-MOD-2-BLK
---
Details:
BCM Gunfighter Grip
The Mod 2 BCM pistol grip with reduced grip angle; wide palmswell profile; modular replaceable backstraps; hinged trap door; modular insert options; polymer material; and matte black finish.
When the M16 was introduced in the 1960s, the manual of arms for shooting positions included a bladed stance with an extended elbow on the fire control side. This new AR-15 BCM Grip allows for a reduced angle and improved ergonomics when shooting in the modern gun fighting stances.
Made of a tough, impact-resistant polymer material, the Mod 2 Gun Fighter's Grip by BCM is up to a quarter of an inch wider than the BCMGUNFIGHTER Mod 0 and Mod 1 grips, and has the same wider profile as the BCM's GUNFIGHTER Grip Mod 3. It also comes refined for the modern warfighter, and optimized for modern weapon manipulation techniques. The reduced grip angle keeps wrist in line with trigger for improved ergonomics and trigger control, and the interchangeable inserts that come with this BCM AR grip allow for either a smooth front strap or a 'duckbill' to cover trigger guard gap.

Also featured on this grip is a hinged trap door with interior storage compartment and water-resistant rubber gasket, as well as interchangeable backstraps for various hand sizes, weapons, and grip positions.
Attributes:
BCM - Bravo Company Manufacturing
BCM-GFG-MOD-2-BLK
BCM-GFG-MOD-2-BLK
0855877004435
Matte Black
AR-15
Polymer
Grip