Magpul MOE Carbine Stock Mil Spec OD Green - MAG400-ODG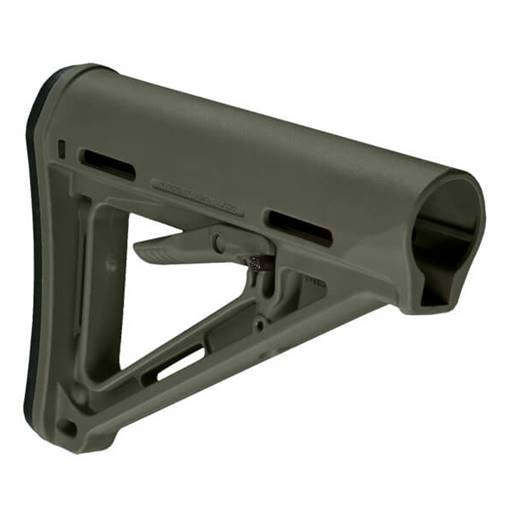 ---
Details:
Magpul MOE Carbine Stock
The Magpul MOE Stock with streamlined A-frame profile; sloping cheek weld; shielded release latch; premium chrome-silicon lock spring; side mounting slots; removable 0.30" rubber butt pad; sling mounts; lanyard hole; polymer material; olive drab green finish; 6.9" max length; 3.3" LOP adjustment range; 10.7" LOP, M4 collapsed; 14" LOP, M4 extended; 8.0 oz. weight; and 12.0 oz. weight w/ rec. extension.
Built to be installed on a mil-spec sized carbine receiver extension tube (not included) from manufacturers like Colt, LMT, Ruger, S&W, SIG, and others (please see note below), the MOE Stock (Magpul Original Equipment) Mil-Spec Model is a drop-in replacement buttstock for AR15/M16 carbines using mil-spec sized receiver extension tubes.
This stock boasts a streamlined A-frame profile which prevents snagging and shields the release latch, promoting light, fast action, and preventing accidental activation. The Magpul Carbine Stock also features a sloping cheek weld that combines a slim profile with user comfort; side mounting slots that accept optional cheek risers for NON-AR15/M16 applications; a premium chrome-silicon lock spring which provides positive locking and ensures a long service life; and a removable 0.30" rubber butt-pad that provides an anti-slip surface even with body armor or modular gear and ensures that impacts do not affect the MOE Carbine Stock.
Fully compatible with Magpul ASAP®, ASAP® QD and other receiver-mount sling attachments, this AR-15 part boasts sling mounts, including 1.25" sling loops at the rear/bottom. A lanyard hole for custom para-cord rigs has as well been featured on the toe of the Magpul MOE Carbine Fixed Stock.
NOTE: There are two basic sizes of M4 Carbine receiver extensions (buffer tubes): Mil-Spec and commercial-spec. If you have a commercial-spec extension on your rifle, make sure to order the Commercial-Spec CTR. If you happen to have one of the uncommon military tubes with an extended slant-back, along with the Mil-Spec CTR you will also need to order the Extended Rubber Butt-Pad, 0.55" (sold separately).
Attributes:
Magpul
MAG400-ODG
MAG400-ODG
0873750003122
OD Green
6.9"
Polymer
Stocks