Magpul MOE-K2 Grip AR-15 FDE - MAG522-FDE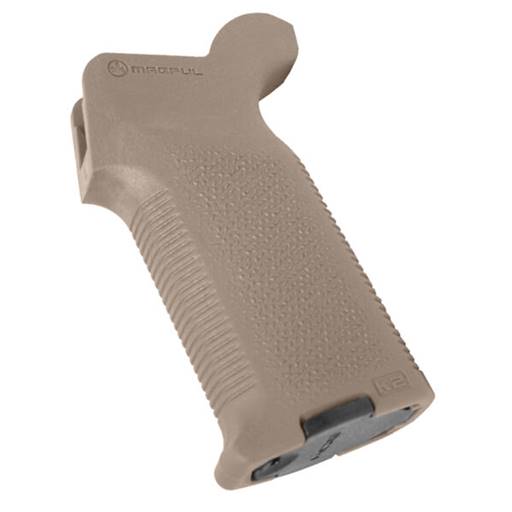 ---
Details:
Magpul MOE-K2 Grip
The Magpul K2 Grip with reinforced polymer body; flat dark earth color; steeper grip angle; aggressive TSP texture; unique backstrap design; grip cap; mounting hardware; 4.1" height (receiver to bottom); 1.2" max. thickness; and 2.9 oz. weight (w/ hardware).
Similar in concept to the MOE-K, the MOE K2 Grip is a drop in upgrade/replacement for the AR15/M4 pistol-grip, and offers a more vertical grip angle, but in a full-size grip design.
Optimized for use on PDW (Personal Defense Weapon) configurations, the steeper vertical grip angle improves comfort and control on short LOP rifles that bring the primary hand in closer to the shooter's body.
The Magpul K2 also features a unique backstrap design for proper trigger finger placement, in addition to an aggressive TSP (Trapezoidal Surface Projections) texture for positive weapon control.
Made in the USA and compatible with optional Storage Cores for gear stowage, the K2 Magpul brings modern styling and ergonomics to the AR platform. Its one-piece reinforced polymer construction makes the grip extremely durable, and fit to serve you for a really long time.
All mounting hardware as well as a basic grip cap are included in the Magpul MOE K2 package.
*NOTE: This K2 Grip will function properly with 7.62 NATO AR10/SR25 style of rifles but, depending on the make of the rifle, may or may not leave a gap between the backstrap's 'beavertail' and the receiver. This gap is purely aesthetic and will not affect function.
Attributes:
Magpul
MAG522-FDE
MAG522-FDE
0873750008110
Flat Dark Earth (FDE)
TSP Texture
AR15/M4
Reinforced Polymer
Grip