Magpul AFG MLOK Angled Foregrip Black - MAG598-BLK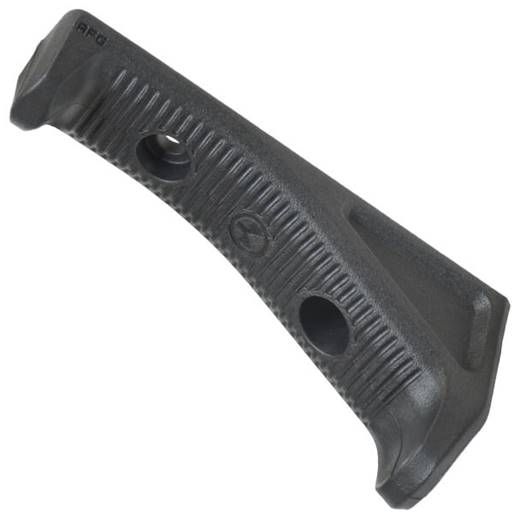 ---
Details:
Magpul M-LOK Angled Fore Grip
The M LOK Angled Grip with high-strength polymer material; black color; low profile; mounting hardware; 3.94" length; and 1.2 oz. weight.
The result of research and refinements done to the original AFG and AFG-2, the Magpul M LOK AFG (Angled Fore Grip) integrates the direct-attach M-LOK mounting system with minimalist construction, resulting to a high strength grip which, together with the hardware, only weighs 1.2 ounces.
¾" shorter than the AFG-2 while maintaining a similar gripping surface area, the Magpul M-LOK AFG Angled Foregrip allows for a wider range of mounting location options. It also takes into account natural body mechanics to provide a comfortable and stable user interface that reduces fatigue and allows for more precise weapon control, even though it is more compact than its predecessors.
The Angled Foregrip MLOK, unlike conventional vertical fore grips, positions the shooter's hand high on the centerline of the bore, and this helps mitigate recoil, giving you more control over the weapon and facilitating faster, more accurate follow-up shots as a result.
Included in the package are all the hardware necessary for attaching the USA-made Magpul AFG M LOK directly to M-LOK Slots on either aluminum or polymer hand guards and forends.
Attributes:
Magpul
MAG598-BLK
MAG598-BLK
0873750006024
Black
High-Strength Polymer