Magpul MOE SL-S Carbine Stock Mil Spec Black - MAG653-BLK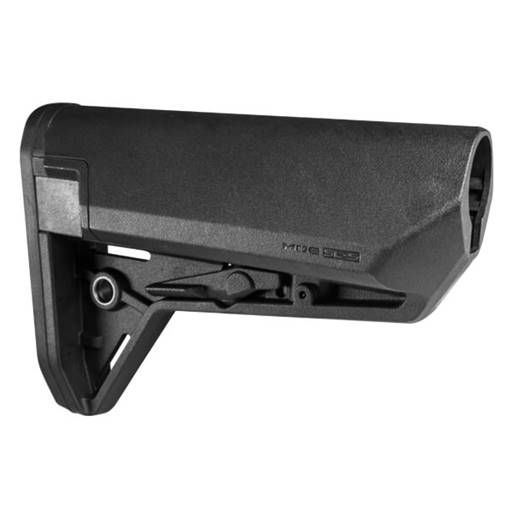 ---
Details:
Magpul MOE SL-S Carbine Stock
The Magpul MOE Stock with dual-side release latches; waterproof battery tubes; enhanced cheek weld; waterproof storage area; rolled toe; angled rubber butt-pad; ambidextrous QD sling swivel socket; leaf-spring tension system; chrome-silicon lock spring; polymer material; and black color.
The MOE SL-S Storage Stock is a direct replacement buttstock for AR15/M4 carbines, and the storage-capable version of the flagship Magpul MOE SL™ carbine stock.
Designed to mount on a Mil-Spec sized carbine receiver extension tube (not included) from manufacturers such as Colt, LMT, Ruger, S&W, SIG, and others*, this MOE Stock features an enhanced, sloping cheek weld which combines a slim profile with user comfort, in addition to a true, O-ring sealed, 10m waterproof storage area desired by many, but fits it into the narrowest package possible to allow a more upright head position and minimize bulk sleek profile.
The slimmest storage tube stock available, this stock also comes with a dual-side release latch that provides easy adjustment while remaining anti-snag, and water-resistant battery tubes located on the left and right sides of the stock. Each tube stores up to two 2 CR123A lithium or AA batteries, and are accessible from the rear in any stock position via hand-removable, o-ringed rubber plugs that are waterproof to 10 meters.
Featured in addition on the Magpul MOE Carbine Stock is a unique, internal leaf-spring tension system which provides a solid fit, minimizing wobble on mil-spec receiver extension tubes, with slightly less friction than the original SL; a rolled toe which allows for easier shoulder transitions and better fit when using body armor; an angled rubber butt-pad that offers an anti-slip surface and increases impact protection; and an ambidextrous QD sling swivel socket.
The most intuitive, comfortable, and efficient storage stock compatible with Magpul ASAP®, ASAP® QD, and other receiver-mount sling attachments, this Magpul Carbine Stock is rounded out by a premium chrome-silicon lock spring which provides positive locking and a long service life.
Sling Mounts
Rear – Integral push-button QD swivel sling mount accommodates up to 1.5" swivels ambidextrous. Rear/Bottom – 1.25" sling loops
*NOTE: There are two basic sizes of M4 Carbine receiver extensions buffer tubes: Mil-Spec and Commercial-Spec. The SL-S MOE Carbine Stock will only fit with the common Mil-Spec tube.
Attributes:
Magpul
MAG653-BLK
MAG653-BLK
0840815109556
MULTI
Black
AR15/M4
Polymer