Sig Sauer P229 Legion SAO 9mm Single Action Only 3.9" Barrel 15 Rounds - E29R-9-LEGION-SAO-R2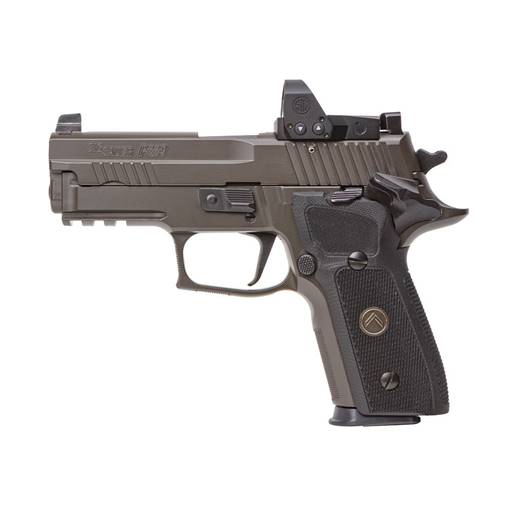 Out of stock at Plano store
---
Details:
Sig Sauer P229 Legion SAO 9MM
The Sig Legion P229 Pistol with alloy frame; black G10 grips; 3.9" carbon steel barrel; optic-ready stainless steel slide; XRAY3 day/night sights; Sig accessory rail; flat SRT trigger; ambidextrous manual safety; low profile decocking and slide catch levers' (3) 15-round magazines; legion gray finish; 7.4" overall length; and 32.4 oz. weight.
Now for sale at Mister Guns, the alloy-framed P229 Legion comes equipped with custom G-10 grips sporting a Legion medallion; an impressively accurate, carbon steel barrel that is 3.9 inches long; an optic-ready, stainless steel slide with front cocking serrations that provide greater purchase for cycling the action, clearing the firearm, or conducting press checks; as well as new SIG SAUER Electro-Optics X-RAY high visibility day/night sights factory-installed to help you target better and faster with the Sig P229 Legion.
The pistol goes ahead to feature low profile decocking and slide catch levers to reduce the risk of snagging; an enhanced polished action with the SRT (Short-Reset Trigger) augmented with a Grayguns, Inc. designed P-SAIT trigger; an ambidextrous manual safety for reliability and user convenience; a solid steel guide rod that adds weight where it matters most; and a SIG rail under the barrel which lets you mount aftermarket accessories for enhanced performance with the Sig Sauer P229 Legion.
An X-Five undercut has been applied to the trigger guard, allowing for a higher grip and greater control; a legion gray finish has been featured for a distinctive look; and three (3) 15-round magazines ship with the Sig 229 Legion.
Attributes:
Sig Sauer
P229
E29R-9-LEGION-SAO-R2
0798681666171
Semi-Automatic
3.9" Carbon Steel
9MM
15
Alloy
Black G10
7.4"
X-RAY3 Day/Night Sights with ROMEO1PRO Reflex Sight
Legion Gray