B&T SPC9 9mm Glock Compatible 9" Trulug Threaded Barrel 33 Rounds - BT-500003-AB-G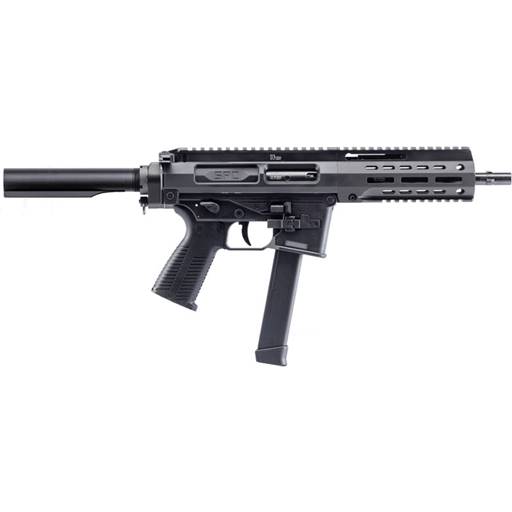 Out of stock at Plano store
---
Details:
B&T SPC9 9mm
The BT SPC9 Pistol with aluminum receiver; 9.1" barrel; tri-lug muzzle adapter; buffer tube stock; M-Lok handguards; black polymer grips; arm brace adapter; ambidextrous AR-style safety; 2 ambidextrous charging handles systems; ambidextrous magazine release; 33-round magazine; black hard coat anodized finish; and 5.90 lbs. weight.
Lightweight. Reliable. Well-balanced. Accurate. Safe. Modular. The SPC9 checks all the boxes.
Born from a European tender requesting a 9mm carbine with the same handling characteristics and ergonomics as the AR platform, this all-new pistol incorporates many of the features found on the B&T APC9, MP5 and AR platforms combined into one, very versatile platform.
This AR-style semi-automatic pistol comes with B&Ts innovative and effective hydraulic buffer system which makes it one of the lightest recoiling, and most accurate, 9mm carbines available. A 9-inch barrel with a 3 lug attachment on the muzzle to enable the use of a suppressor; M-Lok handguards; a lower receiver which draws inspiration from the APC9 B&T series; and polymer grips, are also to be found on the B&T SPC hybrid AR 15 platform. The lower receiver is compatible with the B&T polymer magazine, and also accepts the more commonly available Glock magazines.
Controls on this firearm, including the AR-style thumb safety, magazine release, and charging handles, are all ambidextrous. Bear in mind that two ambidextrous charging handle systems are featured on the B&T SPC9 PDW: an AR-type charging handle and a non-reciprocating, foldable charging handle mounted above the barrel.
A type III hard coat anodized finish ensures the durability of metal parts, and the pistol ships with one 33-round magazine included.
Attributes:
B&T
SPC9
BT-500003-AB-G
0840225709179
Semi-Automatic
9.1" with Threaded Tri-lug Muzzle Attachment
5"-10"
9MM
33
Black Polymer