Radian Weapons Raptor Charging Handle And Talon Ambi Safety Combo Pack Black - R0275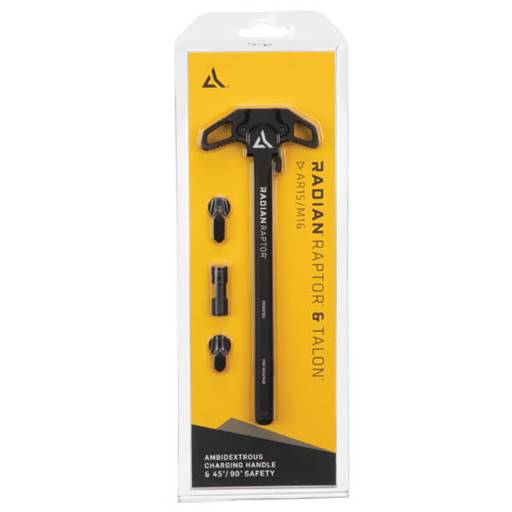 ---
Details:
Radian Weapons Raptor Charging Handle & Talon Ambi Safety Combo Pack
Made in the USA from aircraft-grade 7075 aluminum and Mil-Spec anodized, the Radian Ambi Raptor™ charging handle is, in design & function, truly revolutionary.
From rapid palm "blading" or finger thumb charges of the weapon, the motion is fluid & fast from either strong or support side, and the dark earth cerakote handle has been tested at over one million cycles without failure.
Bear in mind that this Raptor Charging Handle for sale is not compatible with the S&W M&P 15-22.
Also of 7075 aluminum construction, the Talon ambidextrous 45/90 safety selector features an innovative patent-pending screw-less design, and allows the shooter to quickly switch from a 90-degree throw to a 45-degree short throw without removing the entire assembly.
The ambi safety is engineered with the highest quality standards, and because its design involves no screws, you'll never have to worry about levers coming loose or falling off. This kit includes 2 lever lengths: long and short.
Also included in the package is a hardened stainless detent & spring, as well as one installation tool.
Attributes:
Radian Weapons
R0275
R0275
0817093022037
Black & Dark Earth Cerakote
Black
Hardened Stainless Detent, Spring, & 1 Installation Tool
7075 Aluminum