Winchester 1873 357 magnum 10 round 20" barrel color cased reciever blue steel - 534280137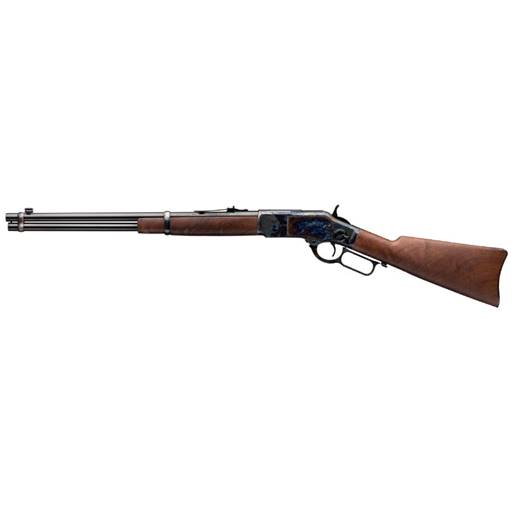 Out of stock at Plano store
---
Details:
Winchester 1873 Competition Carbine
The Winchester 1873 rifle with barrel band; color case hardened carbine buttplate; saddle ring; walnut stock; full-length magazine; and steel trigger.
New for 2022, the Winchester Model 1873 is a classic competition carbine configuration of the lever-action Model 1873 carbine widely known as "The Gun that Won the West®.
This Winchester 1873 for sale at Mister Guns is a genuine Winchester Repeating Arms® Model '73, featuring a 20-inch button-rifled, round barrel with barrel band and polished blued finish; an oil-finished grade III/IV walnut stock; a color case hardened carbine strap buttplate; and a steel receiver with color case hardened finish and saddle ring.
The Winchester rifle 1873 goes on to feature a full-length tube magazine holding 10 rounds, a steel trigger with brushed polish finish, and a steel trigger guard.
The receiver rear tang of this Winchester 73 rifle is drilled and tapped for optional peep sight (sight not included), and the side plates, lever, and barrel band are also color case hardened just like the butt plate and receiver to enhance the wear resistance and fatigue life of the components, making the Model 1873 a very durable firearm.
This magnificent Winchester 1873, chambered in 357 Magnum, has been produced in carbine, rifle and musket models, and is loved by Cowboy Action Shooters because it is reliable and fires the same ammo as their revolvers.
Attributes:
Winchester
1873
534280137
0048702019708
Lever-Action
Steel with Spotter Contour
Polished Blued
20"-26"
357 Mag
10
Right
39"
Color Case
Steel
Open; Drilled & Tapped
Fixed Straight Grip
Oil
Black Walnut
18 3/4"